UNREAL CITY: Las Vegas, Black Mesa, and the Fate of the West
An epic struggle over land, water, and power is erupting in the American West and the halls of Washington, DC. The story begins when a 4,000-square-mile area of Arizona desert called Black Mesa was divided between the Hopi and Navajo tribes. To the outside world, it was a land struggle between two fractious Indian tribes; to political insiders and energy corporations, it was a divide-and-conquer play for the 21 billion tons of coal beneath Black Mesa. Today, that coal powers cheap electricity for Los Angeles, a new water aqueduct into Phoenix, and the glitz of Las Vegas.
Tourists to Las Vegas are mesmerized by the water fountains at the Bellagio, but they don't ask where the water comes from. They don't see a city with the nation's highest rates of foreclosure, unemployment, and suicide. They don't see the astonishing drop in the water level of Lake Mead —where Sin City gets 90 percent of its water supply— or the multi-billion-dollar water pipeline planned to tap a mountain aquifer 250 miles away.
Nies shows how the struggle over Black Mesa lands is really a global phenomenon in which giant corporations separate indigenous people from their energy-rich lands with the help of host governments. Unreal City explores how and why resources have been taken from America's native peoples, what it means in an era of climate change, and why, in this city divorced from nature, the only thing more powerful than money is water.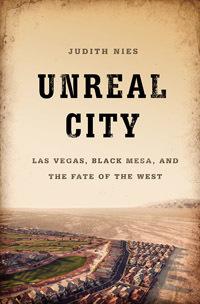 PRAISE FOR UNREAL CITY

"Meticulously researched… Nies's persuasive argument and thorough investigative journalism make Unreal City a superbly revealing and deeply troubling book, and it is difficult to imagine a writer better situated to reveal the hidden and often shameful connections between 'Wall Street, Washington, and the West.'" – Michael Branch, Orion Magazine Dec. 2014

"A tough-minded account of Las Vegas . . . shocking yet artful, Nies owns this story as if it were autobiography…"
--Megan Marshall, Radcliffe Magazine

"What makes Nies' approach even more persuasive is the fact she's willing to bloody the noses of the limousine environmental crowd that usually comes away unscathed when studies of the plundering of the West are written. . . This is the real American hustle."
John L. Smith, Las Vegas Review- Journal
Read the Full Review

"Nies concludes we're in the climate casino now. Who will win? Who will pay?"
- Sharman Russell, On Earth Magazine (Natural Resources Defense Council)
Read the full review.

"Nies' great triumph is to emphatically bring the "bloody nuisance" of the story behind the growth of the West to the public eye. Her book is essential reading for those seeking to understand the largely hidden history and the forgotten deals and injustices that keep Las Vegas and Los Angeles glimmering."
- Los Angeles Times Book Review
Read the Full Review

"If you're headed to Las Vegas for vacation, pack this book along. In between visits to the giant pyramids and faux Manhattans, read it to get a real understanding of exactly how fragile this mirage is."
—Bill McKibben, author Wandering Home: A Long Walk Across America's Most Hopeful Landscape, and founder, 350.org

"A hard-hitting chronicle of the hidden history behind the creation of Las Vegas... An important, multifaceted page-turner."
– Kirkus Reviews
Read the full review

"In this cautionary tale of money and power, Judith Nies has created a heart-wrenching account of the exploited American West—its resources and its people. Unreal City exposes the strange bedfellows and revolving doors that fuel crony capitalism. At the heart of it all is the public-private plunder that has sadly become the nation's new normal, and the tragic toll it takes on everything in its path. Unsettlingly reminiscent of Polanski's Chinatown, it is a brave undertaking."
—Sally Denton, investigative reporter, historian, and author of The Money and the Power: The Making of Las Vegas and Its Hold on America

"Unreal City is a thriller equal to any fiction out there. With impeccable journalism and an easy, lively style, Nies takes us from the halls of political power to the boardrooms of industry to the mesa-top villages and hogans of Black Mesa to tell this story of the energy demands of southwestern cities and the impact on traditional Native Americans. Rich in detail and beautifully told, this is a gripping story, and one we should heed as we struggle to balance our competing needs for energy, quality of life, and environmental and cultural preservation."
—Lucy Moore, author Into the Canyon: Seven Years in Navajo Country and Common Ground on Hostile Turf: Stories from an Environmental Mediator

"We know the story of the men who built Las Vegas, but what about the industrialists who supplied its energy? "Unreal City" by Judith Nies is a four-decade long investigation into a battle for the rights to 21 billion tons of coal beneath Black Mesa in Arizona . . .gripping, insightful"
- Bloomberg News, One of 10 Best Nonfiction Books, Summer 2014
Read the full review

"Essential reading for those seeking to understand the largely hidden history and forgotten deals that keep Las Vegas and Los Angeles glimmering."
− Flagstaff Arizona Sun

Blood-boilingly splendid. Meticulously reported and shocking in detail, Unreal City brilliantly dissolves the fraudulently spun myths of the American West . . . brings scorching, revelatory light to the biggest undertold issue in America
—Katherine A. Powers, recipient of the National Book Critics Circle

"With journalistic discipline and outrage, Judith Nies tells of forgotten deals and historic injustices that keep western cities glimmering."
−Maine Sunday Telegram

Product Details
ISBN-13: 9781568587486
Publisher: Nation Books
Publication date: 4/8/2014
Pages: 320